Dear PockEmul's fans,we are pleased to announce the new PockEmul release. It will be available in the next few days.
It has been a long time since the last version, almost a year, and we hope you are doing well.
This new version brings a lot of new features:
A new business model: In apps perpetual licence

s

are now available in complement of the full subscription
New Texas-Instruments CC-40
Lot of new features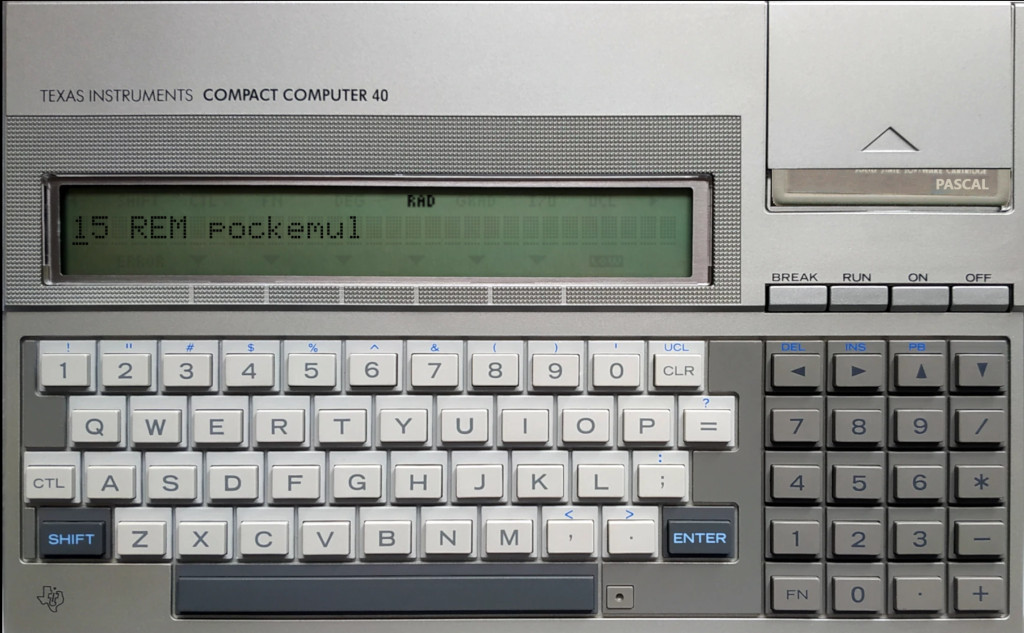 New business model
Because PockEmul is a huge application which implies a lot of support, it was decided to migrate PockEmul to a subscription model.
We think it is a very good model for users interested in exploring the whole PockEmul universe with a minimal monthly cost. There are so many emulated devices, some exclusively in PockEmul and so much knowledge to acquire.
It is a success and many users have already subscribed. Thank you so much !
But, this business model has a drawback. It is not suitable for a user interested only in a limited number of computers, mainly for nostalgic meaning.
We are therefore delighted to once again allow perpetual license purchases for a fixed price.
Of course, you can subscribe for a few months to explore the PockEmul portfolio and then purchase only your favorite models.
New Texas-Instruments CC-40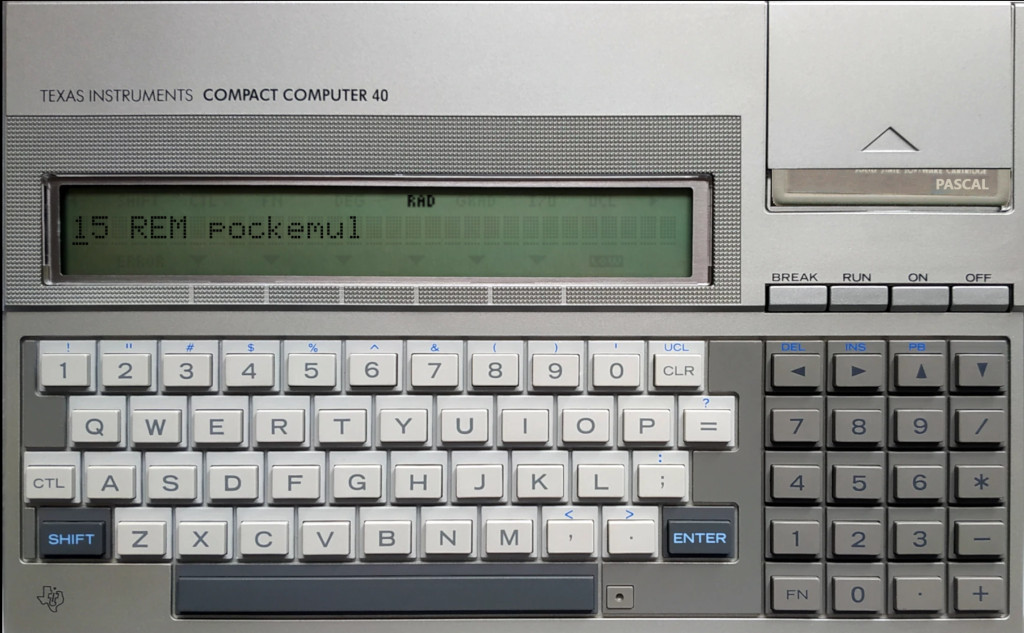 The Texas Instruments CC-40 is a handled computer released in early 1983.
Unfortunately, the wafer tape peripheral was never released and it is was not possible to save programs. A little annoying you will agree.
Fortunately, the PockEmul Save/Restore feature will allow you to workaround this issue.
It comes with several ROM extensions, as well as their user manual:
Pascal Module
Memo Processor module
Finance module
Statistic module
Mathematics module
Game modules

The emulation is not yet perfect and some features are missing:
RAM extension cartridge is not yet available because of instability.
The HexBus peripheral protocol is not yet managed.
No printer management.
Migration to scoped storage
On Android, Pockemul was using External Storage to store configuration, sessions and documentations (i.e. /storage/emulated/0/pockemul).
This location is no more authorized in new Android releases.
It is then mandatory to migrate all PockEmul files from /sdcard/storage/0/pockemul to the new Scoped Storage in android/data/com.myrio.pockemul.
This migration will be done automatically by PockEmul at startup after the update.
In case of migration failure, your files in the legacy PockEmul directory are not deleted. Use your favorite tool to make an archive (zip file) of the /sdcard/storage/0/pockemul/session directory and use the new Restore feature in Settings to restore the archive.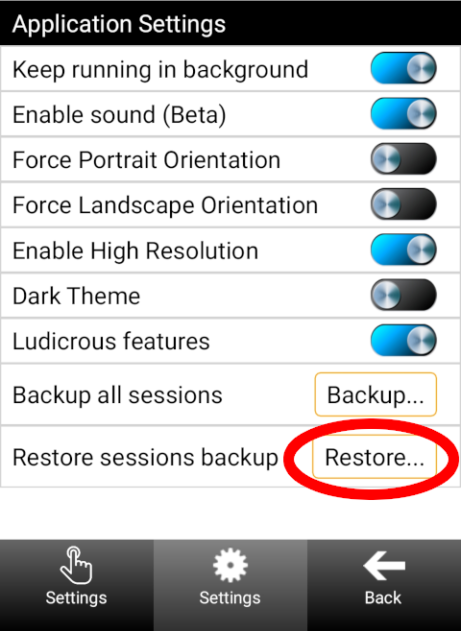 New features
Sessions Backup and Restore.
In settings, you can now backup and restore all your sessions.
The backup will create and archive (a zip file) of the whole sessions directory and move it to the Downloads location.
The restore feature ask you for a Zip file and propose you to restore it directly in our sessions directory. You can choose to restore the archive in a specific sub-directory.
Keyboard Simulator: Load source code from file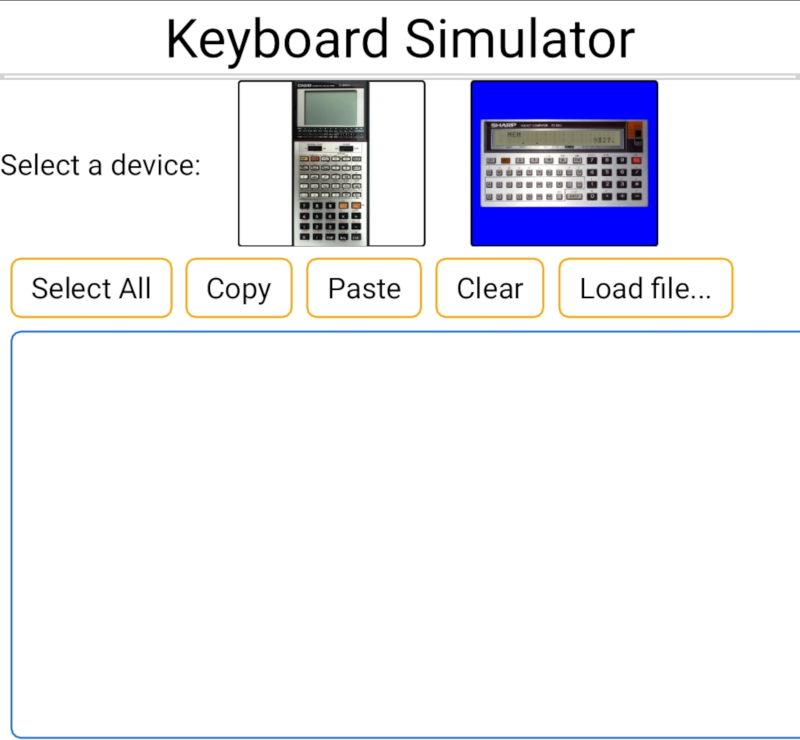 Canon X-07 load and save CAS files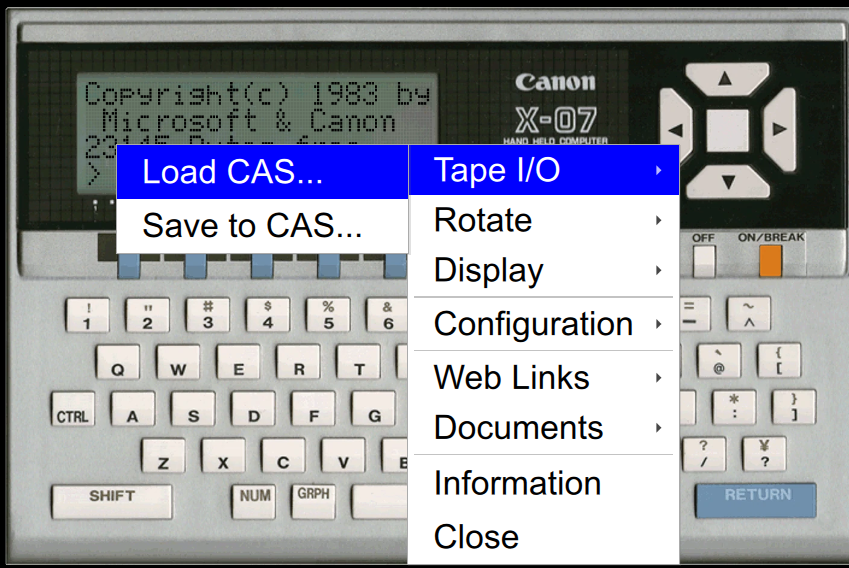 The CAS format is a binary representation of a tape wav file. Some saved program are available here HEBDOGICIEL, les listings (free.fr)
Here you will find a tool to convert Text source code to CAS file (X07 tools)
We planned to include this feature in PockEmul in the future.
"Force Tablet behaviour" setting
PockEmul behavior depends of the display size.
On mobile phone, each emulated device is automatically fitted to the screen size. To switch between devices, you have to use the device selector at the bottom of the screen.
On tablet and on desktop, several devices can be visible on screen at the same time.
This new feature enables tablet behavior on mobile phone.
Ludicrous features
We have have some ideas of ludicrous features and we will add one on each new release. Try to find the first one, it is a bit hidden.
Memory viewer enhancement
8 bits or 16bits line length.
Auto Refresh 20 times per seconds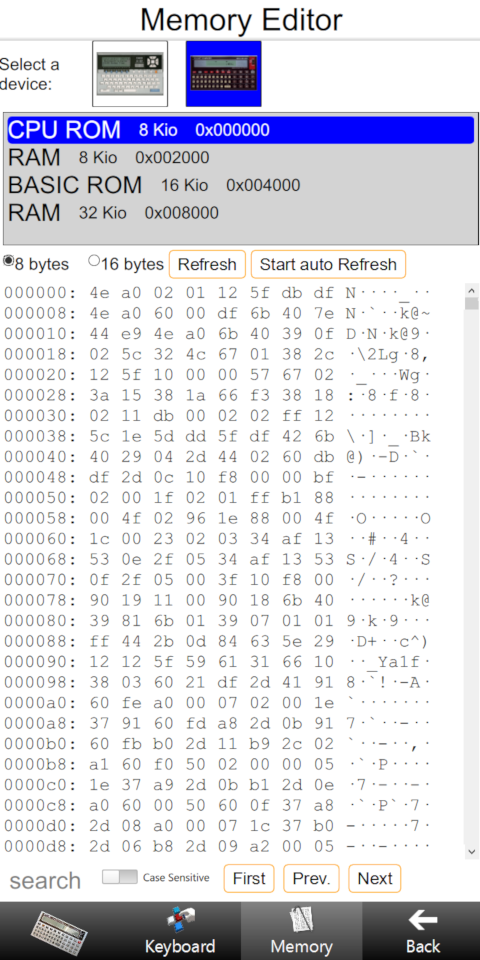 Others features and fixes
A PockEmul fan scan the Sharp PC-2500 operation manual and the Sharp PC-1260 in English. Those manuals was impossible to find on the net in English. Thank you so much Robert !
HX-20 multi-emulation fixed: there was a crash when two HX-20 was running at the time. Honestly, why running two HX-20 in parallel ? who knows ?
Module management issue in HP-41.
Sharp PC-2500 keyboard and plotter issues.
Perfect emulation is an infinite quest. Please report us any inaccurate behaviour at contact@pockemul.com