Dear PockEmul fans, I am pleased to announce the next PockEmul release, it will be available in the next few days.
The business model change (subscription fee) was challenging and we want to thank all the PockEmul community to support us. It is, in our opinion, the only way to secure PockEmul's future.
To comfort the trust of our existing customers and gain the trust of future fans, we must continually add new features and make PockEmul better and better.
YOUR CURRENT POCKEMUL SUBSCRIPTION IS 'ALL INCLUSIVE'
All the new added features are and will be included.
Forever.
Following PockEmul for Android, I am very proud to introduce the next step to PockEmul EveryWhere:
PockEmul for Windows
PockEmul Cloud
As all new main releases, it will also provide several new emulated devices:
The Canon X-07
HP-41 module management
PockEmul EveryWhere
PockEmul EveryWhere is the vision of making your emulation / development environment available on all platforms, sharing the same emulated sessions. It is a wide perimeter with the following not limited components:
PockEmul Android on mobile phone (

Available on Google play

)
PockEmul Android on tablet (

Available on Google play

)
PockEmul for Windows (Now available)
PockEmul for Web (

Future

) : Web-assembly, currently being tested
PockEmul for IOS (

Future

)
PockEmul for OSX (

Future

)
PockEmul Cloud (Now available) : same sessions available from all platforms
PockEmul Community (

Future

) : Share / Exchange / Comment sessions with friends, groups of interest, …
…
PockEmul Android was until today, the only available part of this vision. With PockEmul 2.1.0, PockEmul Windows and PockEmul Cloud will be released.
PockEmul for Windows
The same level of features as PockEmul for Android with the added benefit of a big screen,a mouse and a keyboard. You can have multiple devices on screen at the same time. It has the same look and feel as PockEmul on a tablet. It's Pockemul on steroids!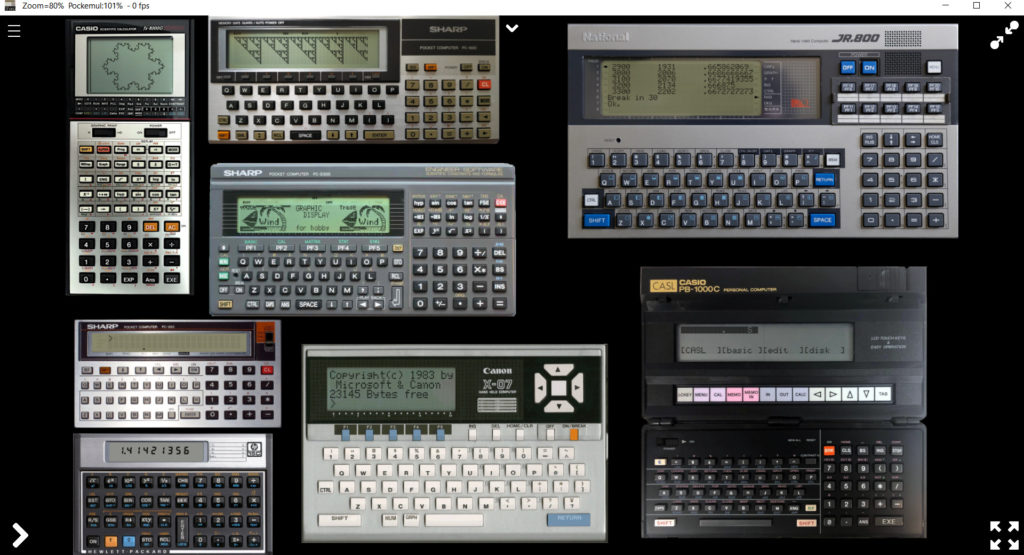 The desktop keyboard is not perfectly managed at the moment because some emulated device keyboards are so specific. But for non conventional keys, everything is available by mouse clic or touch screen.
PockEmul for Windows will be available for download on pockemul.com and will come with 6 fully emulated models for free: HP-41CX, FX-8000G, TI-57, Sharp PC-1245, Sharp PC-1350 and Sharp PC-1500.
All devices and features are automatically activated through PockEmul Android with an active subscription by registering to PockEmul Cloud. Here is how :
You register to PockEmul Cloud on PockEmul Android, with an active subscription.
You request access to PockEmul Cloud from PockEmul for Windows. It will give you a code.
On PockEmul Android you Enter the corresponding code and voilà! PockEmul Windows is then activated without limitations. You can use PockEmul for Windows even with no internet connection (the activation is valid during 7 days between two Cloud connections).
PockEmul Cloud
All your sessions are actually stored in the 'pockemul/sessions' local directory. With PockEmul Cloud you can now store your sessions into the Cloud.
The immediate tremendous value is to bring all your Pocket & Handheld computer World to all your platforms : your mobile Phone, your tablet and your Desktop computers (up to 2 desktop machines).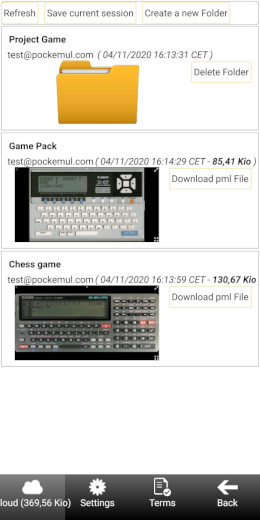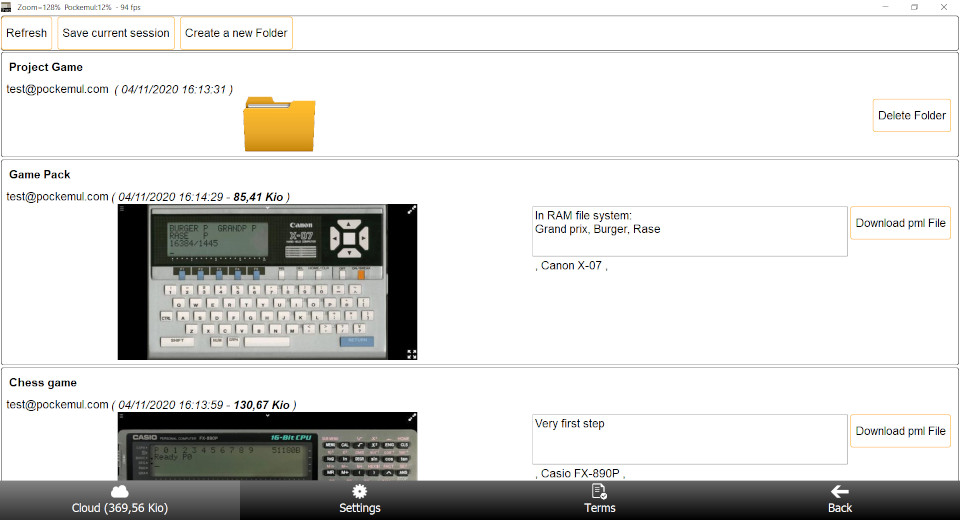 Terms & conditions
PockEmul Cloud is provided to all active subscriptions as a free beta service. We need some time and some feedback from all our users to adjust some features and limitations before including it officially in the PockEmul Subscription.
IT WILL NOT BE A SEPARATE SUBSCRIPTION.
We know that a part of our community has some doubts about the Subscription model. We want to convince them that it has a huge return of investment by adding more and more features for the same fee. We need your support to make PockEmul better and better.
The PockEmul Cloud, as a Beta service, is not guaranteed and may be terminated without notice.
You are responsible for all data stored in your personal cloud.
We will never use nor access sessions stored in your personal cloud. They remain your personal property.
Contact contact@pockemul.com for any feedback and/or problem you wish to submit.
A feature to permanently delete a personal cloud is currently in development and will be available soon.
Cloud features
You can save / update / delete sessions in your Personal Pockemul Cloud space.
You can access your cloud from any PockEmul Android devices (phones or tablets with the same Google account) or from PockEmul Windows.
You can create folders and sub-folders to group your sessions.
The number of sessions in your personal Cloud is unlimited.
The total size of your cloud is limited to 20 MB.
Your Cloud is personal. It is not yet possible to share sessions with the community.
Your Pockemul Cloud space consumption is displayed in the settings and in the label of the Cloud tab.
A backup function is provided in the settings and automatically downloads an archive of all your sessions. Backup archives are stored in the pockemul/backup directory.
Limitations
You must proceed to Cloud Backup (in Settings tab) on a regular basis under your own responsibility.
You should not store any sensitive or personal information in your session data. Your cloud is not yet encrypted and we cannot guarantee that your data will remain private.
Perfect emulation is an infinite quest. Please report us any inaccurate behaviour at contact@pockemul.com
A message for our longstanding users and subscribers :
Pockemul is a 20 year passion project and a labor of love.
We invite you to share the passion and love for vintage computing.
Help us make history like these computers have done in the not-so-distant past.
Help us shape the future of Pockemul. Spread the word!