Dear PockEmul's fans, I am pleased to announce the new PockEmul release. It will be available in the next few days.
It includes 4 new packages, some new features and bug fixes :
Nec PC-2001 package
General LBC-1100 package
Sanco TPC-8300 package
National JR-800 package
Some new features and bug fixes
I know that almost no one owned those 4 handled computers in the 80's, but it's a unique opportunity to immerse yourself in an almost unknown part of the history of handheld computers and especially inaccessible today. They are so rare and so expensive.
Nec PC-2001 package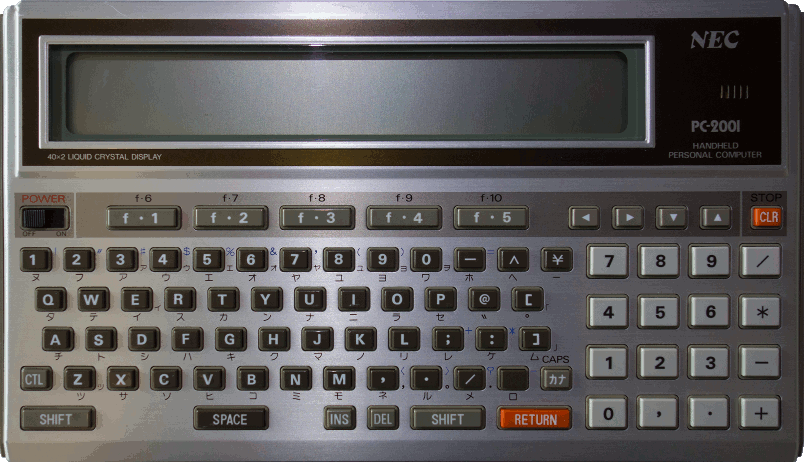 The Nec PC-2001 is a very rare handled computer. I don't think it has ever been exported outside Japan. It looks like a Sharp PC-1500 (2 times its size) and has been released in 1983 just after the Sharp PC-1500.
It has a LCD display with two lines of 40 characters. Its BASIC is quite powerful.
Unfortunately, the only available documentation is in Japanese. You will have to use a translator if you are not native.
It comes with a thermal printer, the PC-2021.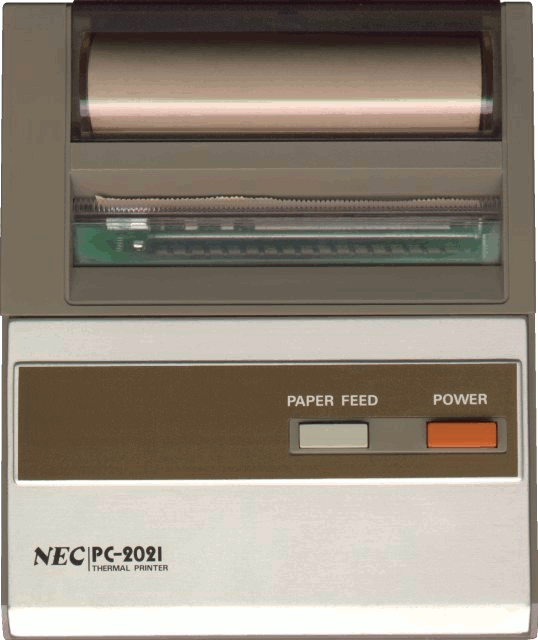 The integrated Real Time Clock is not yet emulated. I have to make some deep reverse engineering to understand the communication protocol between the RTC chip and the CPU.
General LBC-1100 package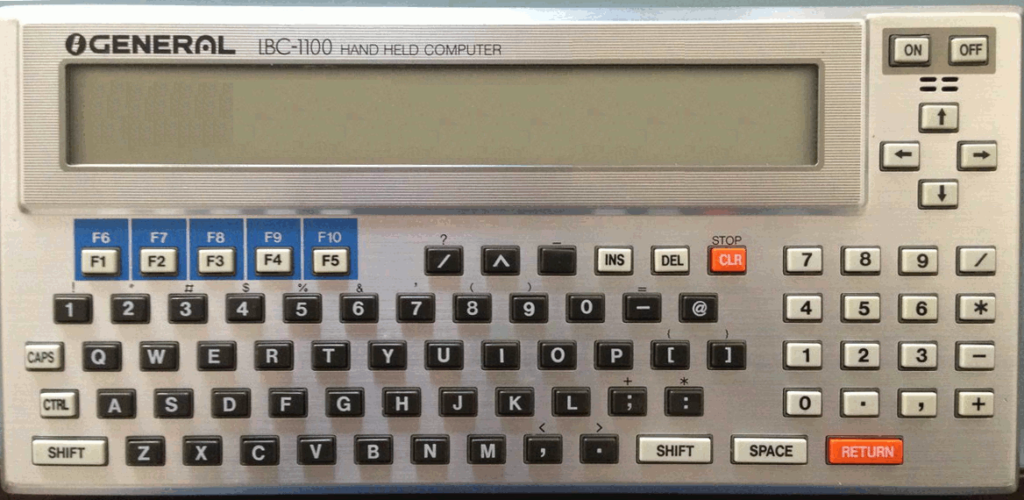 The General LBC-1100 (a Fujitsu Company) was released in 1983 mainly in Japan but we know it has been exported because a French documentation is available.
Here is a pdf brochure in German:
It is a cousin of the Nec PC-2001, same CPU, same LCD but its internal architecture is quite different. For exemple, LCD chips are connected to the CPU in serial mode instead of parallel mode for the Nec.
Instead of a simple thermal printer, it comes with a plotter extension, identical to the Sharp PC-1500's one.
Sanco TPC-8300 package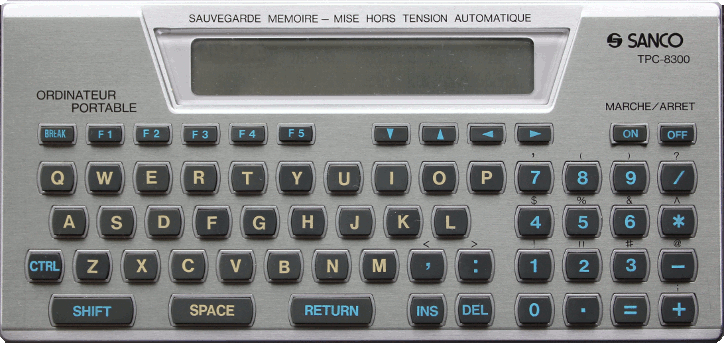 Build in Japan by the Alps company (the well known Sharp PC-1500 plotter manufacturer), it is a pocket computer with a 2 line LCD display and a NEC PD78C06 CPU. It is the same technology than the Nec PC-2001 and the LBC-1100 with a smaller display and an external plotter.
Sanco was a French company born from the local French Sanyo distributor and Cofelec local company.

It had a very low success in France and Germany which make it very rare and a must have in a collection but at a very high price level.
We are fortunate to have the documentation available in English and French.
National JR-800 package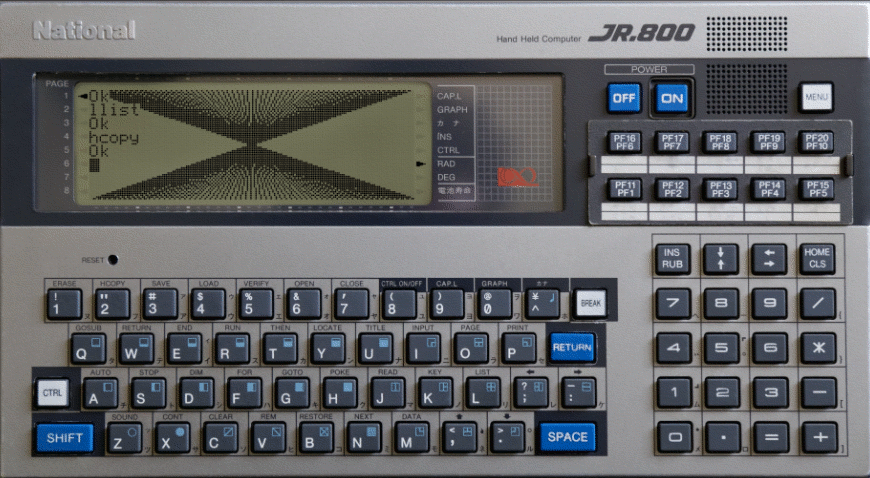 This handled computer is SO SO RARE. I only know 3 people in France owning it which makes it, IMHO, the rarest handled computer (outside Japan, because it appears some times in Japan).
The JR-800 was launched under the National Brand by The Calculator Division of Matsushita Telecommunications Industry Co., Ltd. in Japan in 1983.
The screen has 8 lines of 32 digits with a unique huge matrix of 192 by 64 dots. I don't know if there were bigger display at this time. It has a powerful BASIC, an integrated Real Time Clock (which is emulated) and an external fully graphic thermal printer.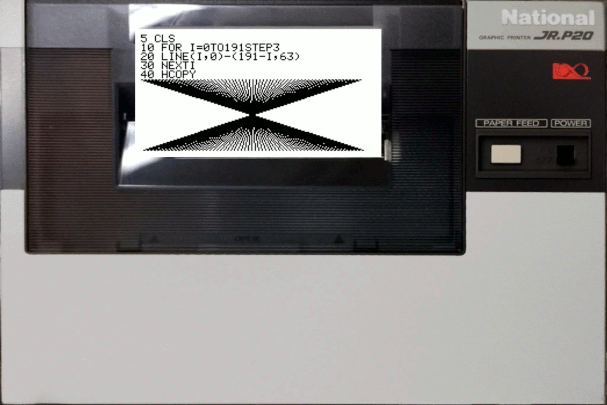 Despite my deep quest, I wasn't able to find any documentation copy. So I created a web page dedicated to my poor knowledge on its BASIC and I will maintain it. Any help is welcome to collect any knowledge about its usage.
It is interesting to notice that we can make a working emulation of a computer without knowing how to use it.
PockEmul emulates perfectly the JR-800 and its printer, only the alarm feature is not working yet.
Bug fixes and new features
Casio OM-53B English user manual: It is the BASIC module for the PB-2000 and AI-1000
Sharp PC-126x LCD management and memory mapping fixed.
Sharp PC-125x issue with LCD refresh at high speed fixed.
Tandy PC-2: Def key wrongly mapped.
Casio Fx-890p (Z-1) rotate Left is now available to enable connector click ( Centronic connector for FP-40)
Sharp CE-150 and CE-1600p: New "Save as Text" option in the Paper menu. It of course doesn't work for pure graphic output.
Remark
This new release is based on a totally new graphic layer. It brings no new feature but was mandatory for future evolution and especially IOS releases.
It explains the delay I took to publish this release because I made so much tests to be sure there is no regression.
PockEmul is focused on quality and I am a bit anxious. So please report me any issue, I commit myself to fixe them as fast as possible.
Next steps
The next steps will be mainly :
IOS and Ipad OS release with the 6 free models. In-apps purchases will come later.
The Cloud package. It will have several features:

Saving sessions in the cloud (with full local backup).
Desktop (Windows 10 and OSX) release included.
Ability to open and save from any platform into the cloud.
Share sessions with friends or to public.
Possibility to exchange on a shared session.
All packages, presents and future, included. (I will have to make a discount for early PockEmul adopters) .
As it implies recurrent costs (for the cloud storage) it has to be on a subscription model. Nothing is still decided and I need your feedback on this before investing in a cloud infrastructure.
Perfect emulation is an infinite quest. Please report us any inaccurate behaviour at contact@pockemul.com