New Subscription model
With the objective of securing the future of PockEmul, we decided to transform its economic model towards a monthly subscription system giving access to all emulated models and features.
You are not required to migrate to the subscription model. All your purchased packages will remain ACTIVE and MAINTENANCE is guaranteed.
This new economic model will be effective on October the 1, 2020.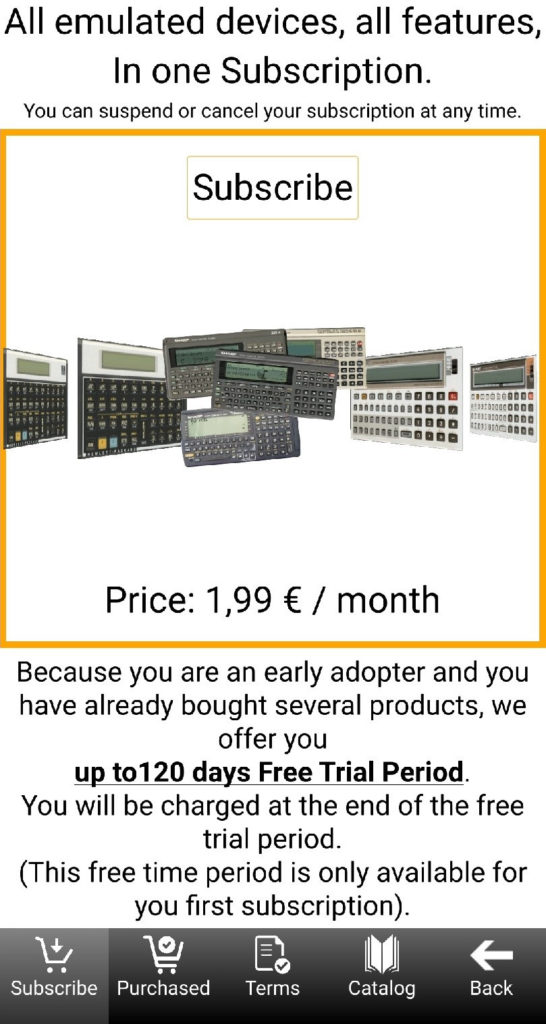 Terms & Conditions
PockEmul still comes with 6 fully emulated models for free: HP-41CX, FX-8000G, TI-57, Sharp PC-1245, Sharp PC-1350 and Sharp PC-1500.
A monthly subscription gives you access to all emulated devices and all extended features

, present and future (because of its recurring costs, the future Cloud functionality will perhaps be part of a complementary subscription) .

If you have already purchased one or more specific packages, you will still have access to their corresponding features

.

It is no longer possible to buy products individually. If you want a package that you haven't purchased yet, you will have to subscribe to the unlimited plan.
The first subscription comes with a free 3-day trial period for new customers and up to 120 days for early adopters.
The new business model will be active on October 1, 2020.
Existing customers
You are not required to migrate to the subscription model.
All your purchased packages will remain ACTIVE and MAINTENANCE is guaranteed.
If you wish to subscribe, your previous orders will be taken into account and PockEmul will offer you a FREE TIME PERIOD subscription based on the amount you have already invested in PockEmul.
It will be possible to subscribe to this migration offer only once: If you cancel your subscription before the end of the free period, this period will be forfeited and your next subscription will not have this free period.
Roadmap
PockEmul will constantly include new emulated devices. Your PockEmul subscription will give you immediate and unlimited access to future emulated models! Here is a list of the next exciting planned additions :
Sharp PC-1425, PC-1425Jap, PC-1450, PC-1450Jap, PC-1475, PC-1475Jap : Included in the current 2.0.0 release
Epson HX-20
TI-58C, TI-59 and PC-100
TI CC-40
TI-74 and TI-95
Canon X-07 with extensions
Casio FP-200 and its extensions
HP-48GX
Panasonic HHC
Working on a new simulator framework to add Sharp PC-1211, Casio FX-702P and Casio PB-100
Do you wish to see a microcomputer model emulated in PockEmul ? drop us a line!
FAQ
I have already purchased desired packages. Must I upgrade to subscription model ?
NO.
All your purchased packages will remain ACTIVE and MAINTENANCE is guaranteed. If you don't want the new subscription and want to keep your existing purchased packages, you have noting to do.

Will it be possible to cancel or suspend my subscription ? What about PockEmul sessions files ?
YES.
You can suspend or cancel your subscription any time (the subscription will remain active until the end of the current monthly period). In this case, PockEmul will still be active on your device, limited to the 6 free models and to the individual packages you have already purchased.
Your sessions files will be still present in your PockEmul directory.
If you resume your subscription, you will have lost nothing.

Can I still buy individual packages before October the 1st ?
YES.
We think that new customers will prefer to wait for the new subscription model, but we announce this changement with a one week delay to let our existing customers complete their portfolio if there are only interested in some specific existing models.
Please note that existing customers may have up to a 4 month free time period on their subscription based on their past purchases.

What if I change my device, reinstall my system or my device breaks down : how do I get all my PockEmul contents (purchases and sessions) back ?
Purchases and subscriptions are automatically restored at each PockEmul startup. If you install or reinstall PockEmul on a second device, a tablet for example, all your purchases and subscription are valid.
Sessions files are located in your device file system and will not be restored. You have to make periodic backup of the 'pockemul' directory from your local storage. The future Cloud feature will address the need of sharing sessions between devices (and much more) by storing them into the PockEmul Cloud.
Current subscription content
Your personal PockEmul subscription gives you an exclusive access to more than 60 different microcomputers and near 20 compatible devices and printers. For life.
All emulated models
Casio : FX-8000g, PB-1000, PB-1000c, PB-2000, AI-1000, FX-890p, Z-1, Z-1GR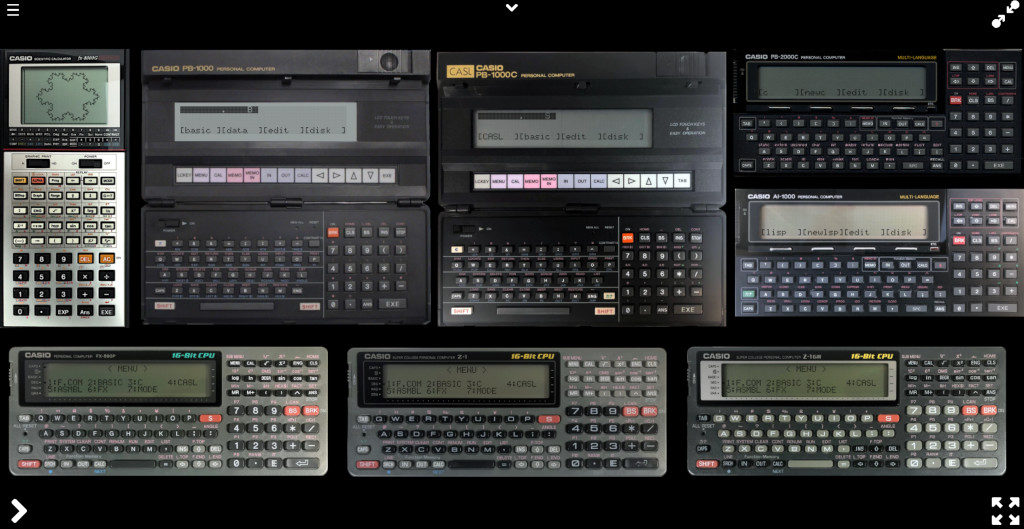 Hewlett-Packard : HP-41CX, HP-11c, HP-12c, HP-15c, HP-16c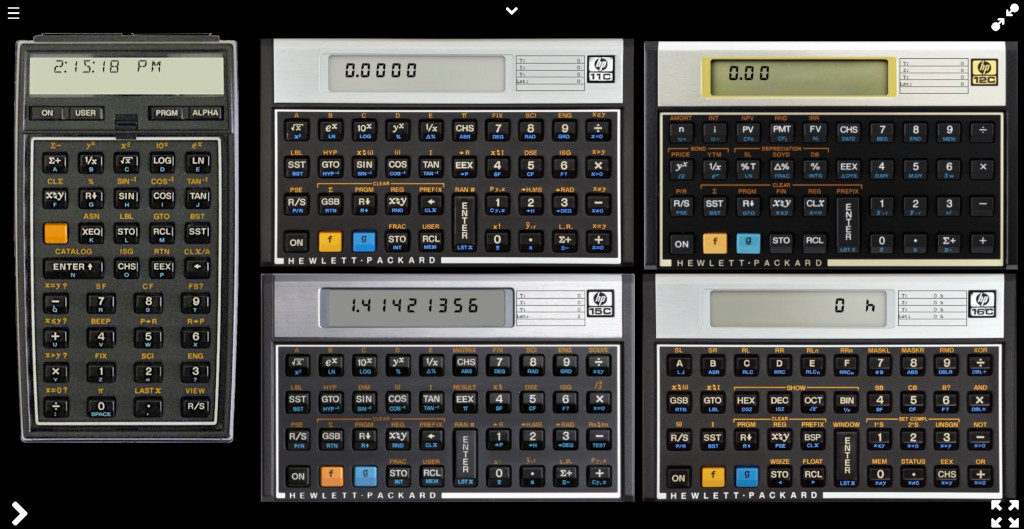 Tandy / Radio Shack : PC-2, PC-3$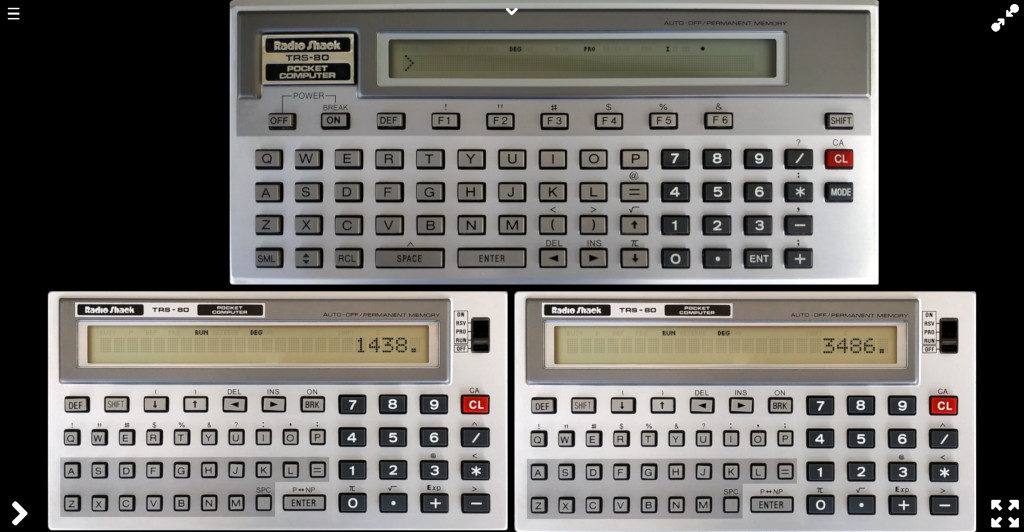 Sharp : PC-1245, PC-1250, PC-1251, PC-1251h, PC-1255, PC-1260, PC-1261, PC-1262, PC-1280, PC-1280Jap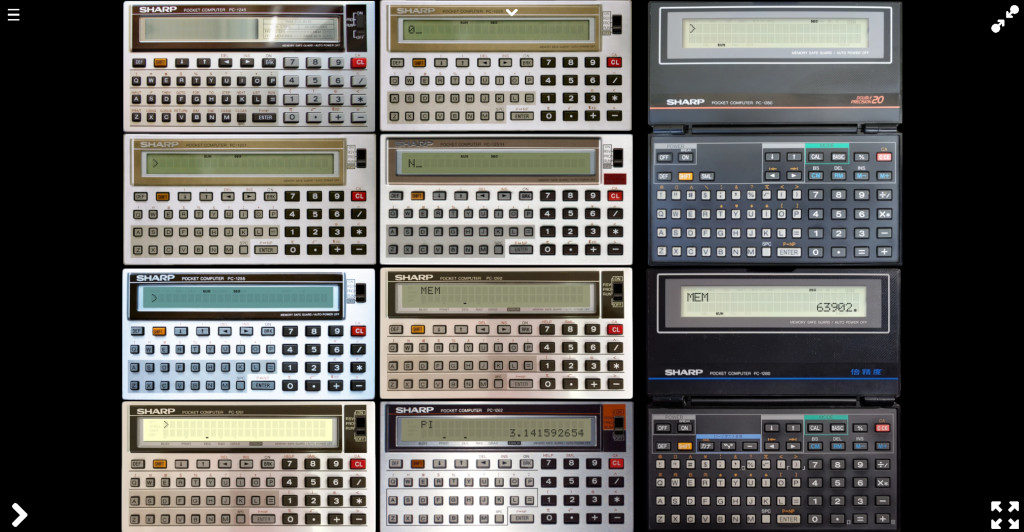 PC-1350, PC-1360, PC-2500 :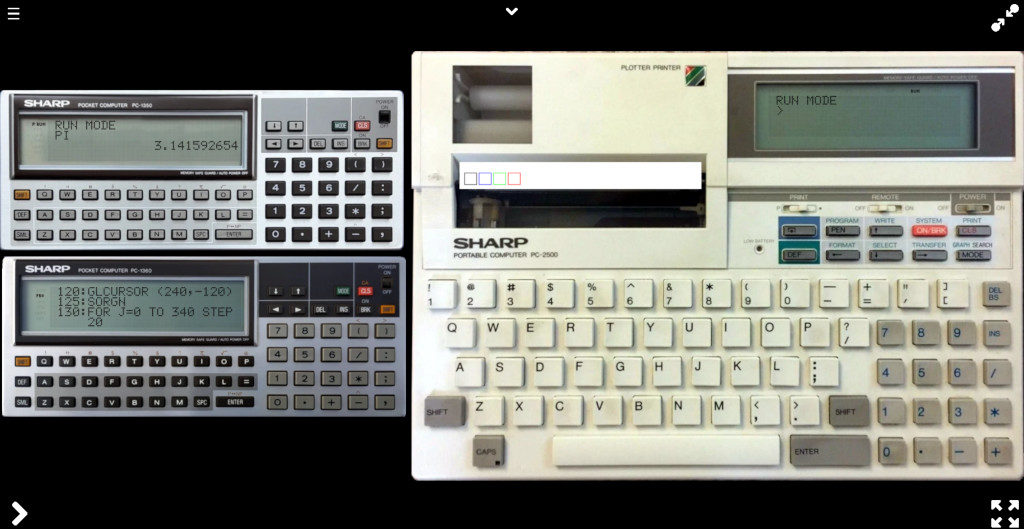 PC-1401, PC-1402, PC-1403, PC-1403H, PC-1421, PC-1425, PC-1425Jap, PC-1450, PC-1450Jap, PC-1475, PC-1475Jap :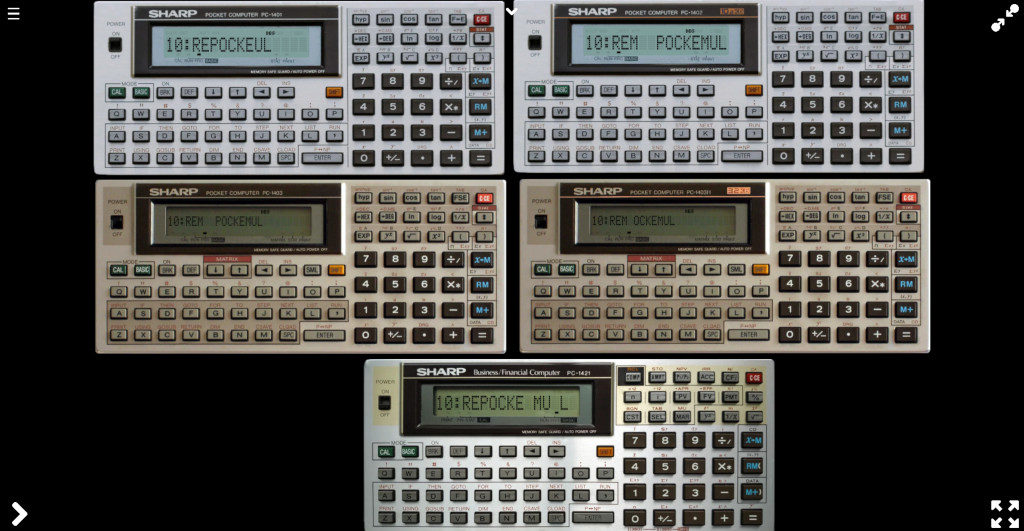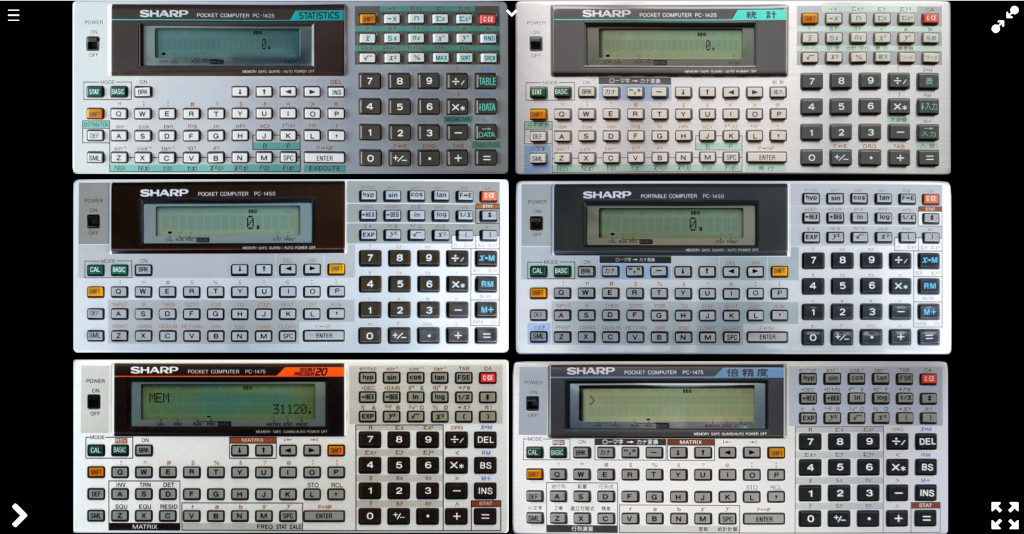 PC-1500, PC-1500Jap, PC-1500A, PC-1501, PC-1600: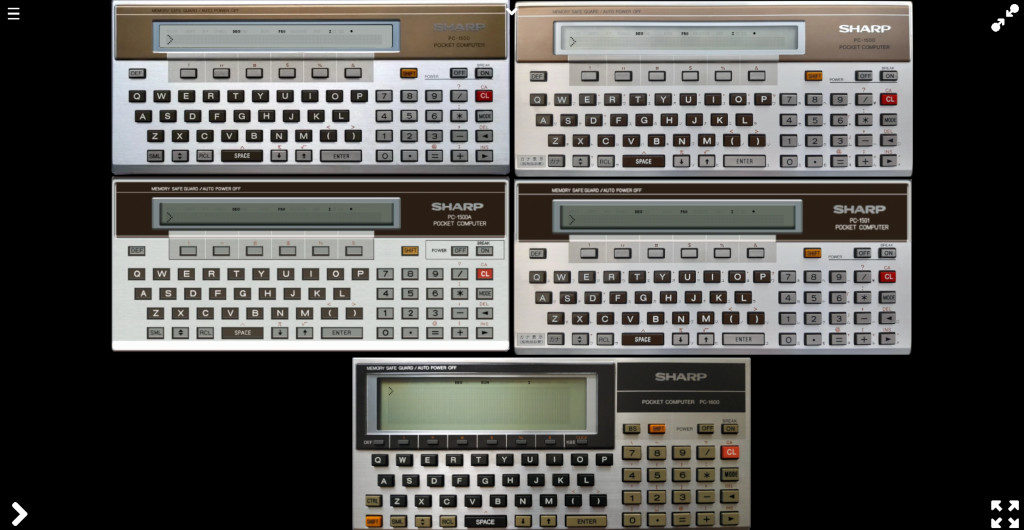 PC-E500, PC-E550, PC-E500S, PC-U6000, PC-G850V: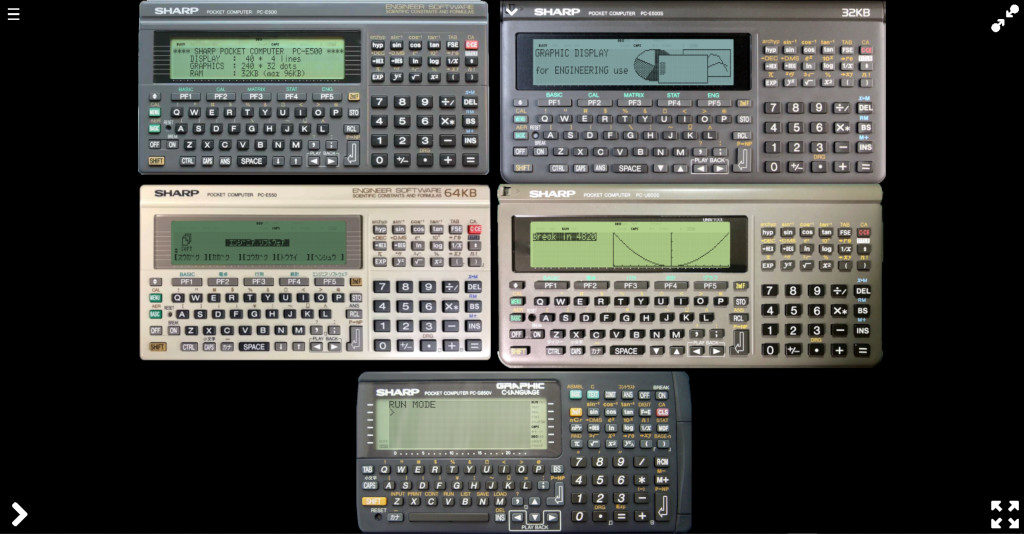 Texas Instruments : TI-57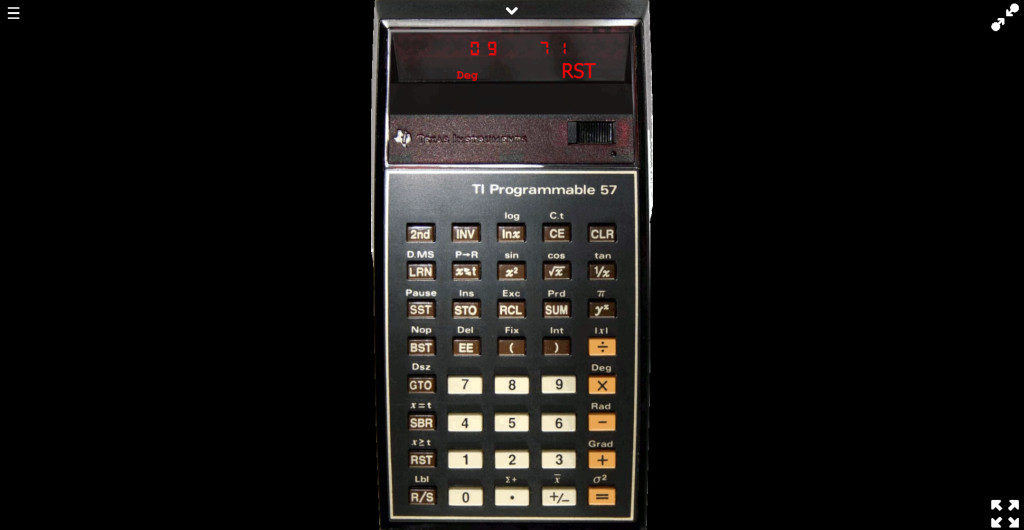 Exotics
MC-2200, PC-2001, JR-800, LBC-1100, TPC-8300 :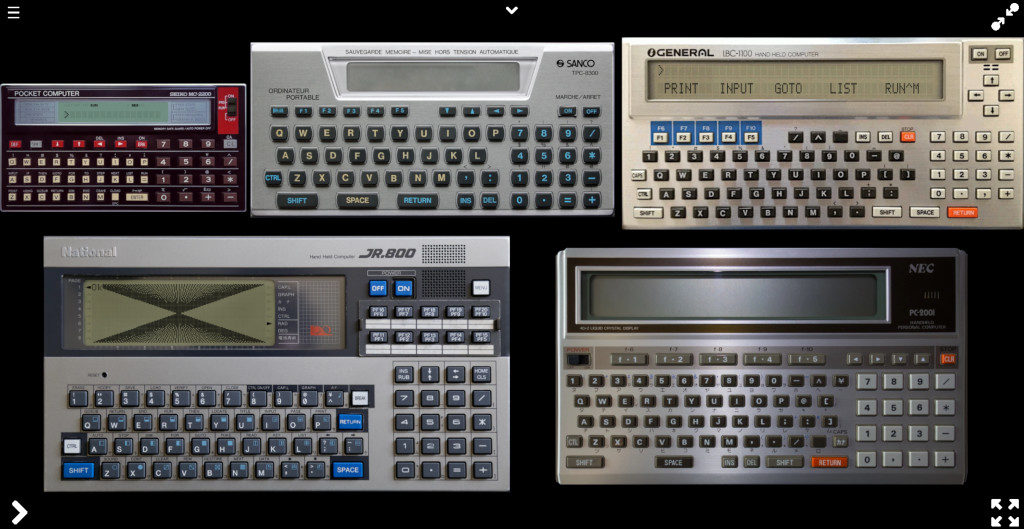 All emulated extensions
Casio
FA-7, FA80, FP-40, FP-100 :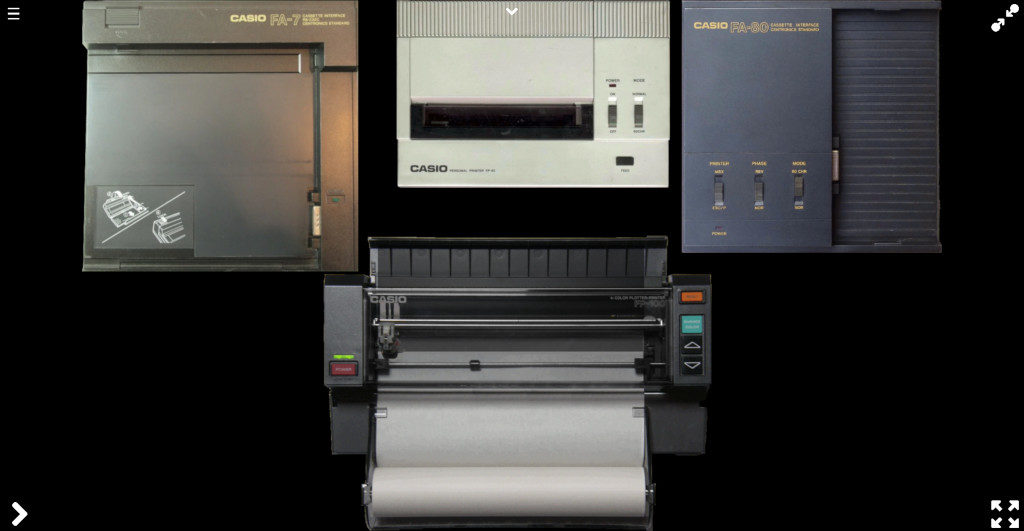 Hewlett-Packard
Printer HP-82143A :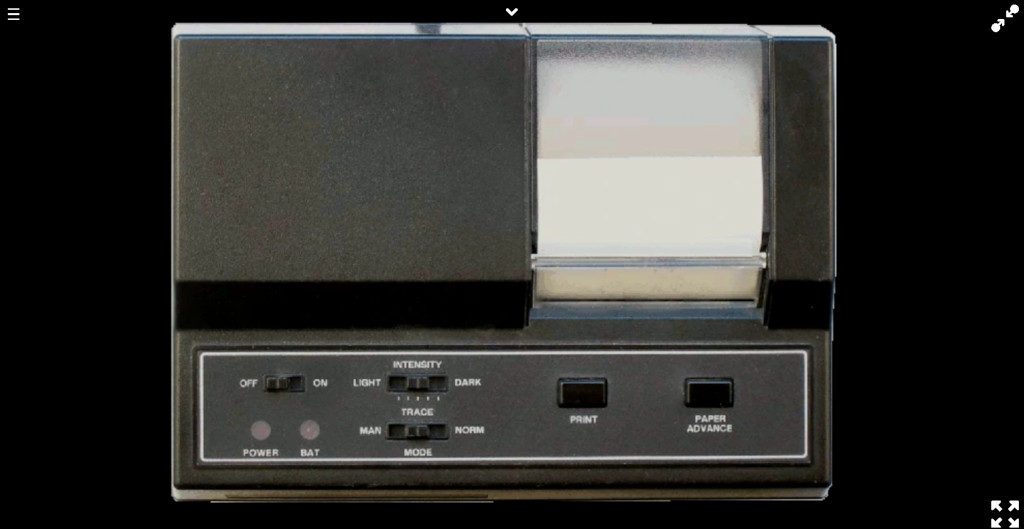 Sharp
CE-125, 26-3591, CE-126p, CE-123p, CE-129p, CE-120p, CE-150, CE-1600p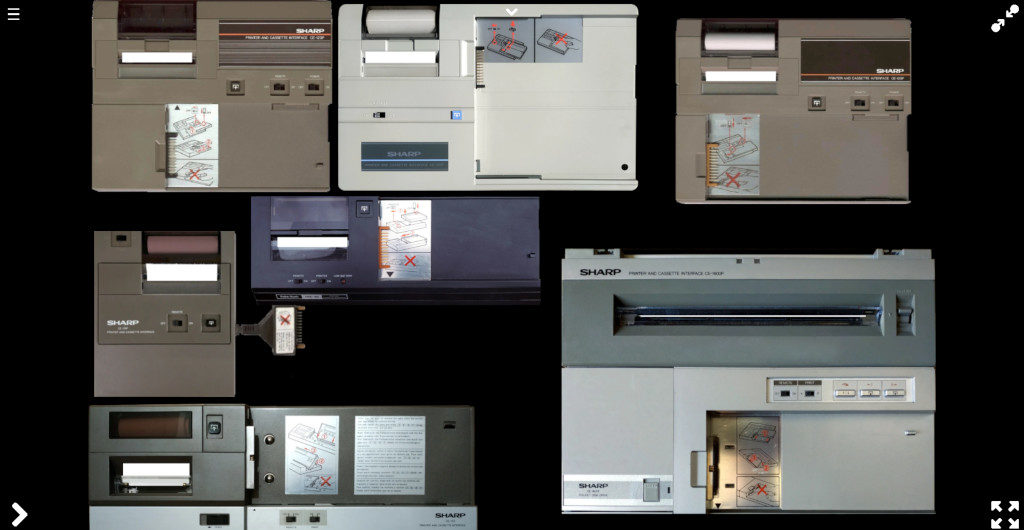 Others
PC-2021, JR.P20, CL-1000, TP-83