Dear PockEmul's fans,
I am pleased to announce the next available package in PockEmul. I'm currently testing intensively to avoid regression and i hope to release it before the end of the week.
This package includes the last Sharp Pocket Computers: The PC-E500, PC-E550 (Japan), PC-E500S, PC-U6000(Japan) and the PC-G850V.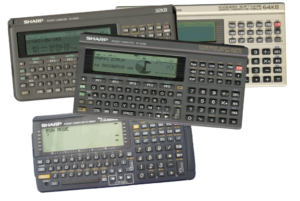 Only few people know the PC-E500 Serie and PC-G850V.
These pocket computers were hardly exported outside Japan. So few knows them, even less have had the opportunity to play with them.
You can now explore the last specimens of the Pocket Computers era.
As usual, user manuals are available in PockEmul. You will spend a lot of time on this because there is so much to discover…
PC-E500 serie
Memory card are managed from 2 KB to 256Kb.

The internal memory can be hacked to 256MB extension. It provides a 512KB Pocket Computer, so much to program and to store your developments in the included file system.
PC-G850V
Interruptions are not correctly emulated, so the OFF key is not yet managed.
All models
The serial port is not yet emulated but will be part of this package in a future release. A global serial console will be part of PockEmul core and will bring the capability to load text program easely.
The CE-126P is fully managed.
Have fun.